Balance must be restored!
DreamWorks She-Ra and the Princesses of Power
Celebrates International Women's Day
#BalanceForBetter
In recognition of International Women's Day, DreamWorks Animation has assembled the cast, crew and young fans of She-Ra and the Princesses of Power to remind girls around the world they have the power to achieve anything they set their mind to.
In a newly released video, the cast of She-Ra, including Aimee Carrero (Adora/She-Ra), Lauren Ash (Scorpia), Marcus Scribner (Bow), Karen Fukuhara (Glimmer), Merit Leighton (Frosta), Krystal Joy Brown (Netossa) and executive producer Noelle Stevenson open up about what She-Ra and its positive portrayals of women and girls means to them and the impact it has on the young audience who watches the show.

Led by Stevenson, She-Ra and the Princesses of Power features a wide variety of female characters brought to life by a diverse voice cast, with an all-female writers room, majority female crew, and a dedication to centering the stories of women in a way that both children and adults can relate to. The series is showing young audiences that no matter how they look or who they choose to be, they are worthy of love, respect, and a starring role in the stories they adore.
Join She-Ra in fighting the good fight – and forge a #BalanceforBetter in the world.
DreamWorks Animation has also created resources and activity sheets for parents, teachers and caregivers to utilize in reinforcing the important messages that International Women's Day aims to spread:
She-Ra IWD Video Discussion Guide – stimulate important discussion with children
My Hero Book – find your inner balanced hero
Balance for Better Labyrinth Game – call upon the strengths and skills of others
Heroic Support Pyramid Game – strive for greater balance in our world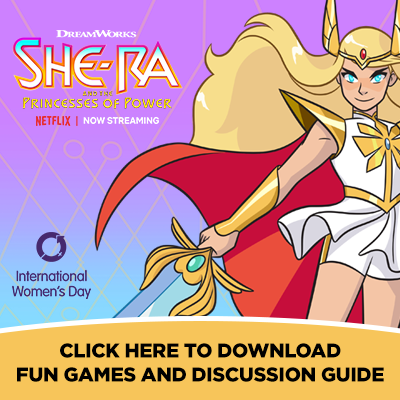 A Disney blooded, crafty, fun-lovin' wife/mom/organizer/planner, etc who is obsessed with all things Disney 🙂 Maria grew up with the Magic Kingdom and has loved watching WDW evolve into what it is today. A firm believer in the Power of Pixie Dust, she is the owner of The Disney Driven Life – A Community for Neurotic Disney People & a d.i.y. crafty blog, Carousel of Projects – create~inspire~share.