Everyone's favorite pups are back! Nickelodeon and Paramount Home Entertainment have recently released a fun, new DVD movie, Paw Patrol: Jet to the Rescue! Paw Patrol: Jet to the Rescue also includes 4 bonus episodes of high-flying rescues for a total of 92 minutes of adventure!
Paw Patrol: Jet to the Rescue is a fun movie for all preschoolers and Paw Patrol fans. Paw Patrol shares values and teaches children that sharing and friendship are important, working together makes the job easier, and that no pup is too small! We have always appreciated these DVDs – even in streaming times! Be sure to check out my tips on how these DVDs are helpful below, instructions for a super fun and easy DIY Skye Flight Goggles and Badge custom craft, and be sure to enter our giveaway for your own copy!
The PAW Patrol: Jet to the Rescue DVD is available from Paramount Home Entertainment and Nickelodeon Home Entertainment exclusively on Amazon on September 3, 2020, and nationally on September 8, 2020, for the suggested retail price of $13.99. The Amazon release will coincide with the presale launch of an exclusive toy and apparel collection available at www.amazon.com/pawpatrol. The collection will include shirts, deluxe vehicles and a die-cast vehicle gift pack themed to PAW Patrol: Jet to the Rescue.
I always share these tips on how helpful these DVDs can be:
Those few minutes you need to clean up the breakfast/lunch/dinner dishes
A drive in the car
As we use it, those random minutes before bed when you just want to laugh and watch adorable puppies play
Anyone who has "cut the cord" and no longer has cable
Great for taking on vacation, pop it in a portable player and you have everyone's favorite pups at your fingertips!
Enter here and you could win a copy of Nickelodeon's PAW Patrol: Jet to the Rescue DVD!  Giveaway runs until 11:59pm September 14th, 2020. Full rules for our giveaways can be found here.
If your kiddos want to fly like Skye, they'll love this Flight Goggles and Badge craft! Click the image to download the instructions and templates. Please be sure to message me if this does not work properly for you.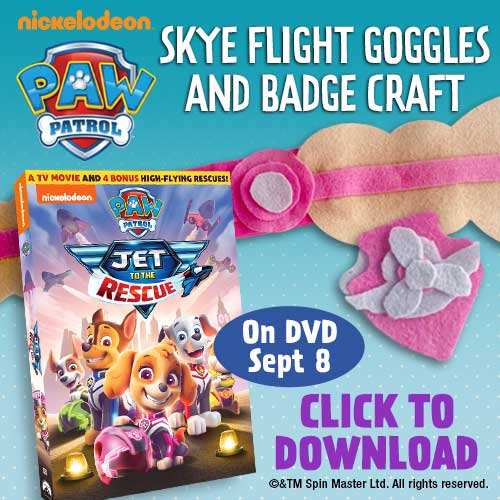 Paw Patrol: Jet to the Rescue:
Get ready to zoom back to Barkingburg with the pups in this all-new TV movie. When the scheming Duke of Flappington steals a powerful levitation gem from the royal castle, it's up to the PAW Patrol to jet to the rescue before the town is lost forever. Then, join the PAW Patrol for even more high-flying adventures where they'll save a stunt pilot, one of Mayor Humdinger's kittens and even Skye when she breaks her wing flying to Jake's Mountain.
PAW Patrol: Jet to the Rescue episodes include:
Jet to the Rescue (TV movie)
Four(4) Bonus Episodes

Pups Save a High-Flying Skye
Pups Save Skye
Pups Save a Flying Kitty
Pups Save an Ace